When I think of old gravel driveways, I used to think of potholes, ruts and mud, but now there's an easy Green solution for driveways! Before EcoGrid was invented if you parked your car on grass it meant you would soon have a muddy mess. Now there's a simple way to fix up mud issues and park your car on a green lawn – without damaging the look.
Imagine a place where those big black parking lots were gone – and you park on grass. Green parking lots, green driveways! EcoGrid is a fantastic new product that allows grass to grow – and lets you park on it! Because it supports and spreads out the weight of your car – there are no more ruts and the water flows into the ground. This virtually eliminates mud… and it can be used with gravel too. There are many examples of this permeable paving grid that create green parking lots, gravel driveways, and even horse paddocks!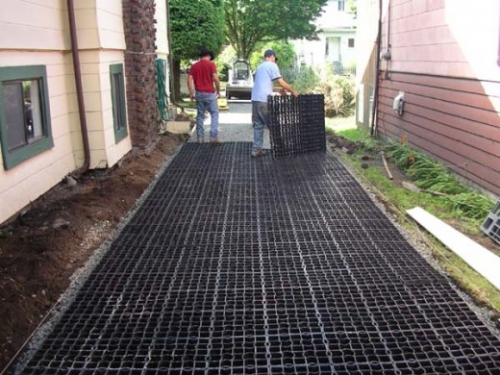 There are many new products available that can directly impact the environment – in a good way – and products like EcoGrid is one such an invention. In the world where parking lots and driveways are a standard feature – there are a lot of new innovations like the EcoGrid called permeable paving. Yes, there is an asphalt alternative! Cement will crack and heave….so why not look at some green, driveable product that will last for decades?
I'm an expert on green driveways – with gravel or grass – and have helped people build parking areas and green driveways around the UK. I spend part of my day with architects and homeowners – figuring out ways to "Build Green"! Last year there were thousands of driveways built across the UK using Ecogrid with thyme, sedums and of course grass.
5 Great Reasons to build a Green Driveway!
Does it really help the Environment?
Permeable paving is the term frequently used for systems like Ecogrid – which allow water to drain or permeate into your base. In the past, asphalt was the top choice for driveways because it was simple and cheap to install. Putting in a plastic grid system is slightly more expensive but here are some of the benefits:
1. Recycled Plastic turns into an environmentally neutral product. EcoGrid is 100% recycled plastic – and will outlast any asphalt driveway. It won't crack and rarely needs repairs even after decades of use. The plastic used in Ecogrid is environmentally neutral – so it won't deteriorate and leech into your soil. It is UV resistant, frost neutral and can withstand the heat.
2. Storm Water Control – when it rains or pours the water carries the pollutants from a car straight into most drains. These drains often feed directly into the lakes and streams. When water can flow into the soil it will become naturally filtered.
3. Mud Control! – When water is kept draining (thanks gravity!) it will seep into the sub-base and help control mud. Gravel driveways used to form muddy spots and potholes – but by using a grid system the water flows away from the surface. No more mud!
4. Cost Savings Grid systems originally cost more than asphalt and less than concrete or stone pavers. In the long term the savings are huge – not just for the environment but for the wallet. Grids will keep the gravel from disappearing – and slow down the migration of gravel. They prevent washouts and stop pot holes. Grid systems installed across Europe typically last over 20-30 years, with little to no maintenance or repairs.
5. Creating Green Space
These Ecogrid systems are so easy to install that they frequently get used for extra parking. If you ever need an extra parking place – don't park on your lawn – install an area for your bikes, cars or trailers – in just a day. They can be used to help control mud and erosion, and give your family a space that is green instead of a slab of concrete!
There's 2 common options when using grid – planting grass and using gravel. This section is about using grass – which is what I've used around my father's house. Dad has a garden area that really has some wet drainage issues so we wanted to stop the mud from forming and keep the grass. Using grid was a fantastic option!
This EcoGrid has been used all over Europe for over 20 years, and it's a heavy industrial plastic that's been engineered to withstand huge loads – cars, motorhomes, trucks and even firetrucks! The concept behind it is brilliant – and so simple
These squares of recycled plastic (100% recycled too!) – are from 30mm – 50mm thick. The e40 – which is what I personally have used around my father's house – is Ecogrid's mid weight product for residential driveways. At 40mm deep it really doesn't sound like much until you realize how simple and easy it works. The plastic won't shift, split or crack even when cars park on it. It really does work like a snowshoe – spreading out the weight of car tyres – and distributing the load. Because it has so much empty space – the grass grows and the grid doesn't show any more.
Grass can be planted or seeded and the roots get protected by the grid. After rain, the Ecogrid allow water to gradually absorb into the soil below. To me, this is really the perfect solution for someone who needs an extra parking space but doesn't want to put down more tar or cement. It's great for visitor parking too… and if we had a camper van or a motorhome – this would be perfect.
For the grass area we had to do some excavation – basically to get rid of the old grass in the yard. Ecogrid suggested a huge amount of sand get mixed in with the soil. The sand keeps the water draining away from the surface – and into the sub-base. What was interesting was the sub-base only needed to be about 4 inches deep – made of the sand and soil. We topped it off, and threw down a bit of seed, and waited for it to grow. Alas – it still has to be cut!