EcoGrid's word-leading ground reinforcement solutions are unrivalled on the market. Permeable, long-lasting, aesthetic, and super-quick to install thanks to a unique inter-locking system (as much as 100m² per hour, per person).
The grid has a multitude of uses; enhancing car parks, driveways, pathways, access routes, construction sites, camp sites, and lots more all over the globe – but did you know it's also a game changer in the equestrian field?
We call it EquiGrids and today we'd like to show you it in action!
Mud? 'Neigh' Problem!
Whether it's a gallop, paddock, gateway, walker or other equestrian space, our grids can be used to create a surface unmatched by anything else on the market – one that's mud-free all year round!
Safer for horses, less frustrating for you.
Astounding Arenas
We offer complete arena packages incorporating EcoGrid S50. This grid is renowned for its elasticity and promotes natural horse movement.
That elasticity means the extreme impact loads from horses' hooves are especially well absorbed.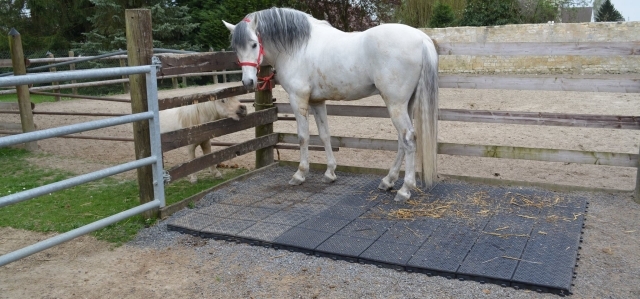 Accessorise with Softground
EcoGrid Softground, or 'softplay matting', easily clicks in place with our permeable paving and can be cut to suit any shape required.
In the equestrian field, this rubber mat combined with our grid is ideal in the likes of stables, walkers, feeding and washing areas to provide a high traction, non-slip surface. It improves hygiene, takes less effort to clean and its shock-absorbing properties ensure grip and stability for horses in wet conditions.